The President's Commitment
The President's Commitment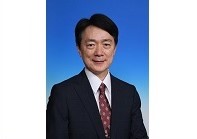 We will create new value and contribute proactively to the development of society.
Jun Takamatsu, President
NuFlare Technology, Inc. ("NuFlare Technology") was founded in 2002. Since then, we have been conducting business activities under its management vision "to create new value and contribute proactively to the sustainable development of society" through its leading-edge semiconductor manufacturing equipment.
In order for us to contribute to society, we need to start by making full use of our leading-edge technology and continue creating innovation through our business activities. To make this happen, it is important for us to work every day recognizing that our semiconductor manufacturing equipment underpins the semiconductor industry, which, in turn, supports society and many different business areas. It is with a sense of great responsibility, spirit, and pride as part of the foundations for all these industries and business areas that we carry out our business activities.
As a global company, our business has been dealing mainly with customers from all over the world, which is undergoing rapid changes and becoming more diversified and complicated. Under such circumstances, I strongly feel the need to accept diverse views and society, and reform ourselves to keep pace with the rapidly-changing international situation in order for us to achieve the sustainable development of our business operations. We will speak frequently with our stakeholders to deepen our understanding about what we should do and what is expected of us, and put our goals into action.
Our management vision states that "we commit to raising the quality of life for people around the world, ensuring progress that is in harmony with our planet." This declares NuFlare Group's aspiration for contributing to society through its business and aligns with the directions of SDGs aiming for the realization of a sustainable society.
We will continue to incorporate CSR principles represented in the GRI Guidelines, RBA, etc. in our management so that all employees of NuFlare Technology will practice CSR management and contribute to the achievement of SDGs.
Our stakeholders' understanding in connection with these efforts and their continued generous support and cooperation in the future would be most truly appreciated.

Jun Takamatsu, President
NuFlare Technology, Inc