Risk and Compliance Management
Risk and Compliance Management Policy
NuFlare Technology,Inc.("NuFlare Technology") stipulates, in our Standards of Conduct, that all our directors and employees should practice the basic behavioral principle of observing all relevant laws, regulations, contracts, ethics, and company rules, and promotes good faith and fair business activities.
Risk and Compliance Management Promotion System
The president of NuFlare Technology is also the Chief Risk & Compliance Management Officer (CRO) who assumes the ultimate responsibility for risk and compliance management for the entire company. When serious compliance-related issues arise, we have a system in place that allows the Risk Management Committee to convene to swiftly verify facts and discuss and implement measures to deal with the issues and prevent them from reoccurring.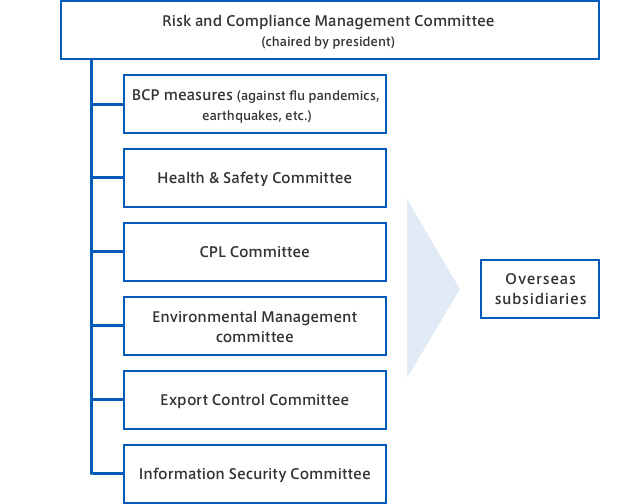 Training on Risk and Compliance Management
We provide various training programs for new employees with a view to ensuring compliance with the NuFlare Technology Group Standards of Conduct. We also periodically hold legal affairs seminars presented by an external lawyer for directors and provide employees with various legal affairs seminars with a focus on compliance and contract preparation (see photos ). In addition to these training programs, individual employees are given the opportunity to deepen their understanding of compliance, especially Anti-bribery.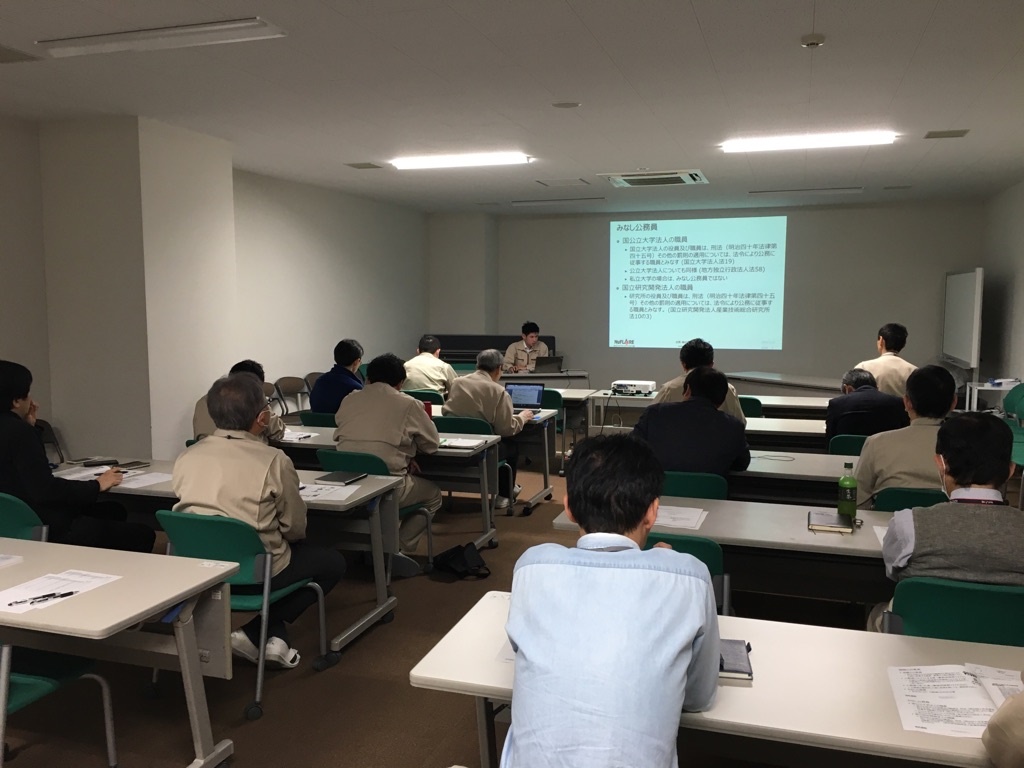 Response to Compliance Violations
In the event of a noncompliance incident, the CRO will convene a special Risk and Compliance Management Committee meeting to develop accurate understanding of facts, locate root causes, and disclose information in a proper and timely fashion, when deemed necessary, to prevent similar incidents from occurring. At the same time, the CRO will make appropriate responses, possibly including a punishment for an employee who has committed a compliance violation.
In-House Whistleblower System
In response to the Whistleblower Protection Act which came into force in April 2006, NuFlare Technology established a whistleblower system in May of the same year to collect internal information on NuFlare Technology Group Standards of Conduct violations, compliance violations, and the like, to promote early detection and prevention of such violations. Under this system, we offer the following support for our employees:
Corporate Ethics Helpline
The helpline is set up mainly for the purpose of avoiding risks associated with compliance violations (e.g. violation of law and illegal trading). The help line also collects information and offers consultation on actions considered to be violations of laws and regulations, social norms, corporate ethics, NuFlare Technology Group Standards of Conduct, and other in-house regulations.
Employee Help Desk
The help desk offers advice and assistance on the following matters:

Problems concerning the workplace and human relations
Problems concerning treatment of personnel
Sexual harassment
Discriminatory actions based on pregnancy, childbirth, childcare leave and nursing care leave, etc.
Abuse of power.
SOGI harassment and any other problems.
Legal Affairs Group and Human Resources group accept whistleblowing information and consultation requests from employees (including anonymous informants) concerning 1) and 2) respectively by telephone, email, fax, post, or other means. NuFlare Technology has a structure under which an incident reported to the system is referred promptly to the CRO and auditors, so that an investigation can be established to solve the problem as early as possible.
Compliance Situation Inspection and Audit
The General Affairs Department works in coordination with the Internal Audit Office in order to confirm the state of implementation of various compliance measures and reflect audit results in compliance measures.
Prohibition of Political Contributions
The NuFlare Technology Standards of Conduct stipulate that NuFlare Technology "shall not make contributions to political parties or committees, unless permitted to do so by applicable laws, regulations, and company rules."
NuFlare Technology Standards of Conduct(151 KB)